I am so excited to share this sweet and sour chicken with you because I think you will fall in love as I did! Plus, you are going to add this easy sweet and sour recipe to your monthly meal rotation. We love Chinese in our home, and Sweet and Sour chicken and egg roll are our top picks.
Baked Sweet and Sour Chicken
Takeout is something that I admit I indulged in far too frequently in my early twenties. It was the easiest option, though I'm realizing now it was not the healthiest or most affordable. One of my go-to takeout meals was sweet and sour chicken from our local Chinese restaurant. I loved the combination of the sweet sauce and the breaded chicken, it was always so melt-in-my-mouth good, and I could quickly eat an entire large portion myself.
Now that I have a family, takeout happens significantly less in our own. Takeout for one can add up quickly but takeout for many is never an economical option, and as I focus more on eating whole foods as part of a healthy lifestyle, I'm beginning to realize just how unhealthy eating takeout several nights a week can be. Who knows what chemicals and extra ingredients they add!
Healthier Baked Sweet and Sour Chicken
Still, I find myself craving my favorite dishes, so I decided to start making homemade, healthier versions of my favorite takeout recipes, beginning with this Baked Sweet and Sour Chicken.
The first thing I did to make this recipe healthier than my local Chinese joint is to opt for baking the chicken instead of frying it. I do pan-fry the chicken lightly before baking but at no point is it even submerged in oil, as I feel it must be in most restaurants. I also kept the breading light and focused more on the flavor for this healthy Sweet and Sour Chicken.
It took a while to figure out the perfect combination for the best sweet and sour sauce, but I think I finally nailed it. It's the ideal combination of sweet and sour.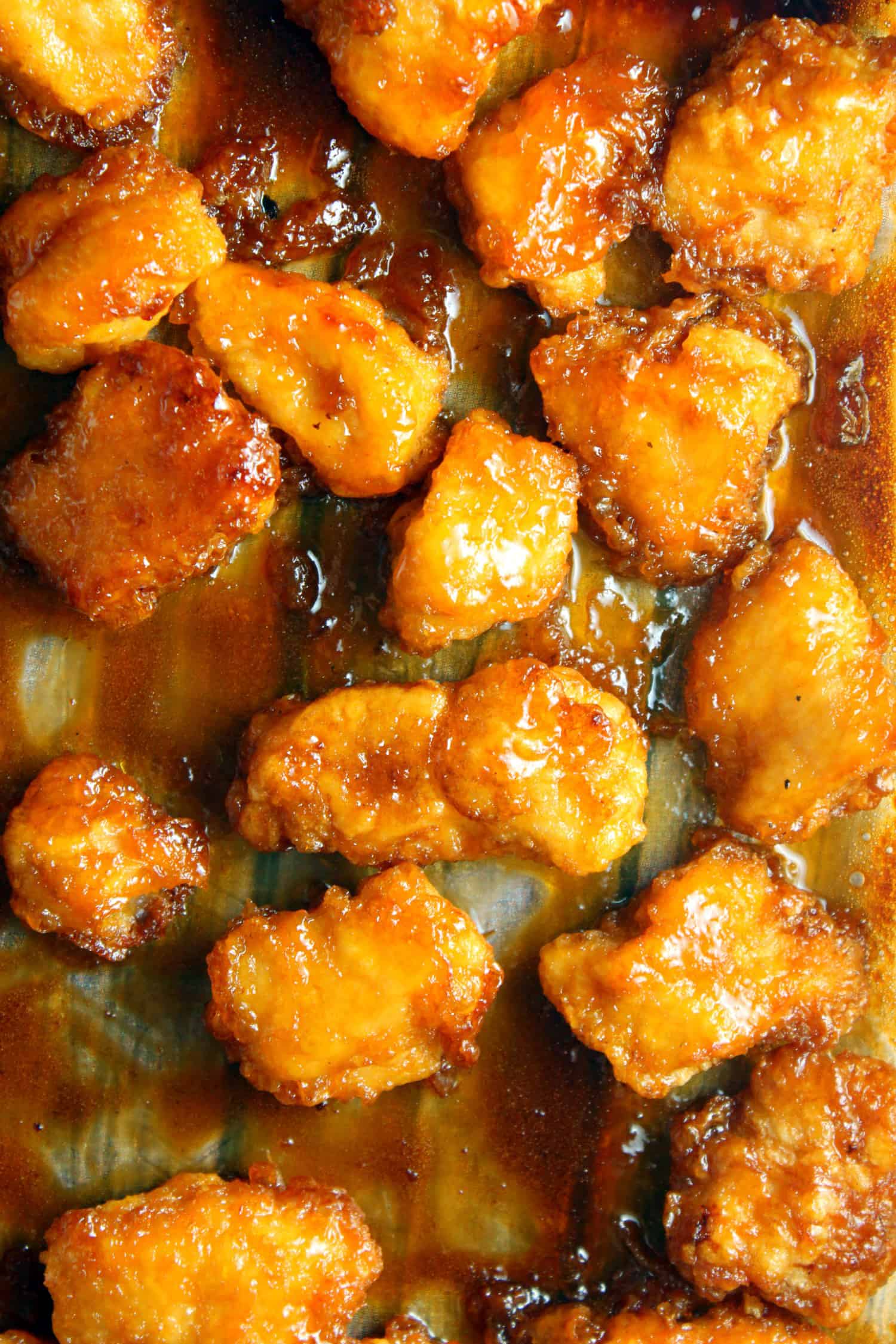 Juicy & Delicious Sweet And Sour Chicken
This baked sweet and sour chicken is topped with a sauce made from sugar, ketchup, apple cider vinegar, soy sauce, and some spices. Ingredients that you likely already have in your cupboard combine to create an absolutely delicious sauce. It's seriously finger licking good, so don't say I didn't warn you.
Since it's sweet, it's always a hit with my kids as well. They almost always ask for seconds.
Serve this baked sweet and sour chicken over rice. To keep it a bit healthier, serve with brown rice instead of white and a side of vegetables. I like to serve this with broccoli, but a nice mix of Chinese vegetables would taste delicious too.
If you love Chinese takeout, you'll love this healthy sweet and sour chicken recipe!
How To Make Sweet And Sour Chicken
I hope you are prepared for how simple this practically effortless this sweet and sour chicken recipe is. There are just a few easy steps to take.
First, you will need to preheat oven line the baking dish with parchment paper.
Dice up the chicken into 1-inch pieces.
TIP: It's essential to keep the sizes of chicken similar, so it can cook evenly, so you don't end up with meat that is overcooked or undercooked.
Next, season the cut chicken breasts with salt and pepper.
Add cornstarch to a large Ziploc bag and toss in the pieces of chicken breast. Shake the bag until the chicken is evenly coated.
In a shallow bowl, beat together eggs.
After you have gotten the egg mixture ready it's time to heat oil in a skillet over medium-high heat until sizzling.
Dip chicken breasts in eggs and add to the skillet. Carefully, sear chicken pieces until they are golden brown and place in the prepared baking pan.
Now it's time for the mouthwatering for the sweet and sour sauce. In a medium bowl, combine sugar, ketchup, vinegar, soy sauce, garlic powder, and sea salt and whisk.
Pour over chicken and bake for 1 hour, tossing halfway through.
That's it! Now you can dig in devour every last drop!
We prefer to serve homemade sweet and sour chicken over a bed of fluffy white rice! If you are watching your carbs, you could also use cauliflower rice or anything else that you think sounds good.
For Complete Cooking Instructions Please Head On Over To Next Page Or Open button (>) and don't forget to SHARE with your Facebook friends