We're well into fall here in the States. I think at this point we might as well just rename fall as "pumpkin season" as that's all you see and hear about everywhere from September until Thanksgiving. As a pumpkin lover, this is one of my favorite times of the year, and I've been busy in the kitchen coming up with the best pumpkin recipes and have lately been on the hunt for the best recipe for a pumpkin poke cake with sweetened condensed milk.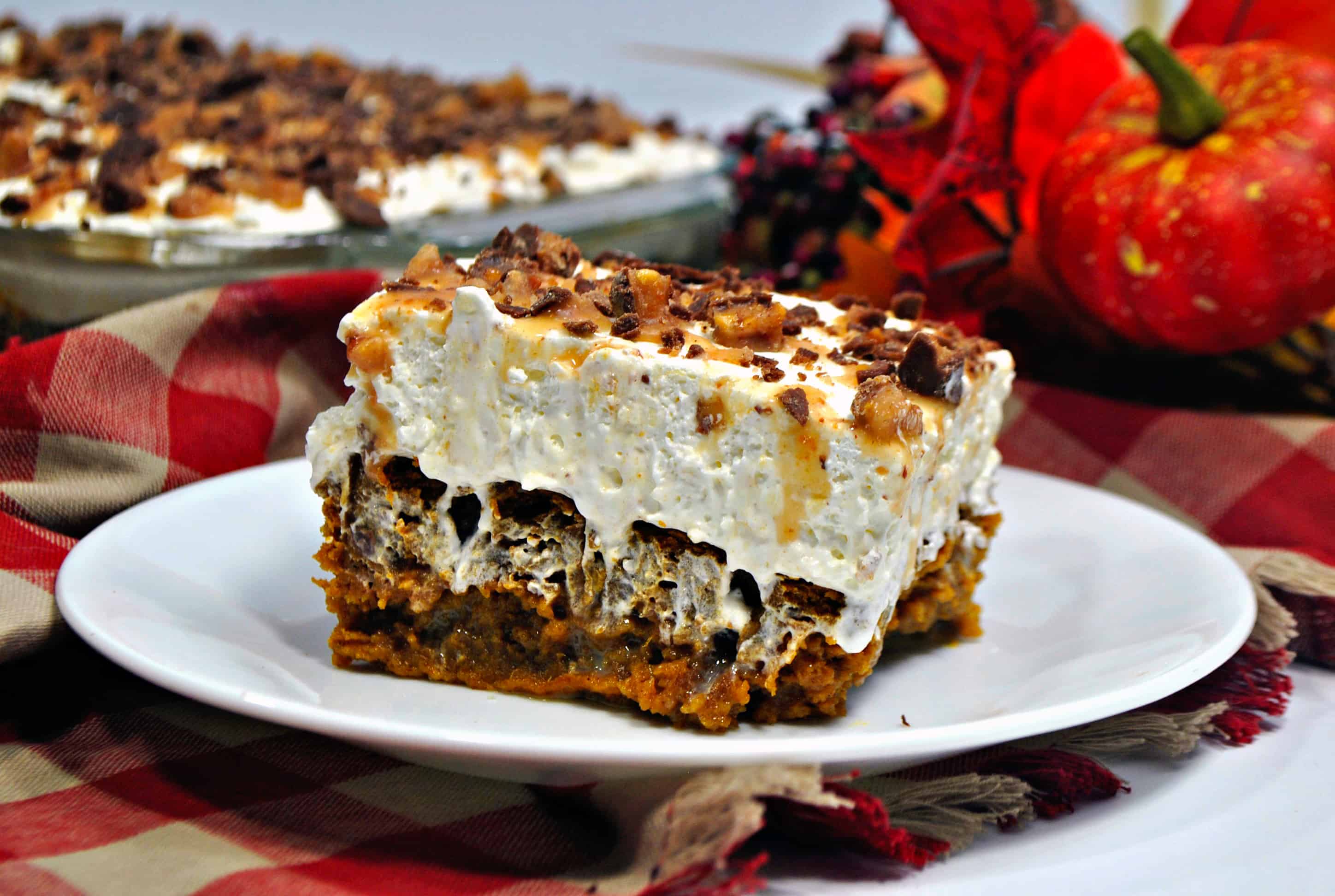 Pumpkin better than sex cake is hands down, the best pumpkin dessert I've ever made. It's rich, sweet and delicious and since it's made with box cake mix, it's so easy to make.
Since I'm all about keeping things easy, I knew the better than sex cake with pumpkin would be one that was not entirely made from scratch, but there was no way I was just grabbing a pumpkin cake mix (do they even make those???) and calling it a day.
Better Than Sex Pumpkin Cake
Instead, I decided to take some inspiration from my favorite pumpkin spice flavor and start this Better Than Sex Pumpkin Cake Recipe with a boxed spice cake mix. The spices in spice cake mix are actually similar to those you use to make pumpkin spice which happens also to be pumpkin pie spice mix. The added pumpkin flavor comes from the can of pumpkin puree.
Those two flavors combined make one delicious recipe for a pumpkin cake, but I wanted to take it a step further for the BEST pumpkin cake recipe and turn this into a pumpkin poke cake with sweetened condensed milk and add a cream cheese frosting and surprise topping.
Once this was completed and I tried a bite, there indeed was no name for it other than better than sex cake because, yes, it IS that good. You'll understand once you try a piece!
Pumpkin Cake
With the added ingredients, I wouldn't call this a straight up pumpkin spice cake, but it's definitely a recipe for pumpkin cake you'll want to try.
I think this Better Than Sex Cake recipe is so good that it should be served at all fall family and friend gatherings, including Thanksgiving. There is a chance that I'll be making this cake for Thanksgiving dessert instead of traditional pumpkin pie!
One important thing to note is that this pumpkin cake does need to chill overnight to let the condensed milk absorb into the cake, so it needs to be made the day before it's being served. Then, shortly before serving, you can make the cream cheese frosting and finish the cake. Personally, one of the reasons I love this better than sex pumpkin cake is that it's a great recipe to make in advance. One less thing to do the day of Thanksgiving dinner!
If you're looking for the best pumpkin dessert, then this pumpkin better than sex cake is it!
How To Make Better Than Sex Pumpkin Cake
When you taste how amazing this better than sex cake with pumpkin is, you are going to be shocked and thrilled by how easy it is. I love meals and desserts that you use minimal effort because life is so busy. Here are the steps to make this divine pumpkin dessert:
First Step: Begin by mixing together spice cake mix and pumpkin puree.
Note: It's so important to understand that you do not make the cake mix according to directions!
For Complete Cooking Instructions Please Head On Over To Next Page Or Open button (>) and don't forget to SHARE with your Facebook friends