Chicken and dumplings are one of my favorite meals. It reminds me of Sunday dinner at grandma's house. But making traditional chicken and dumplings from scratch is a time-consuming process, especially following my family's recipe. Every dumpling must be hand-cut to the exact size and the dough kneaded just so to create the perfect texture.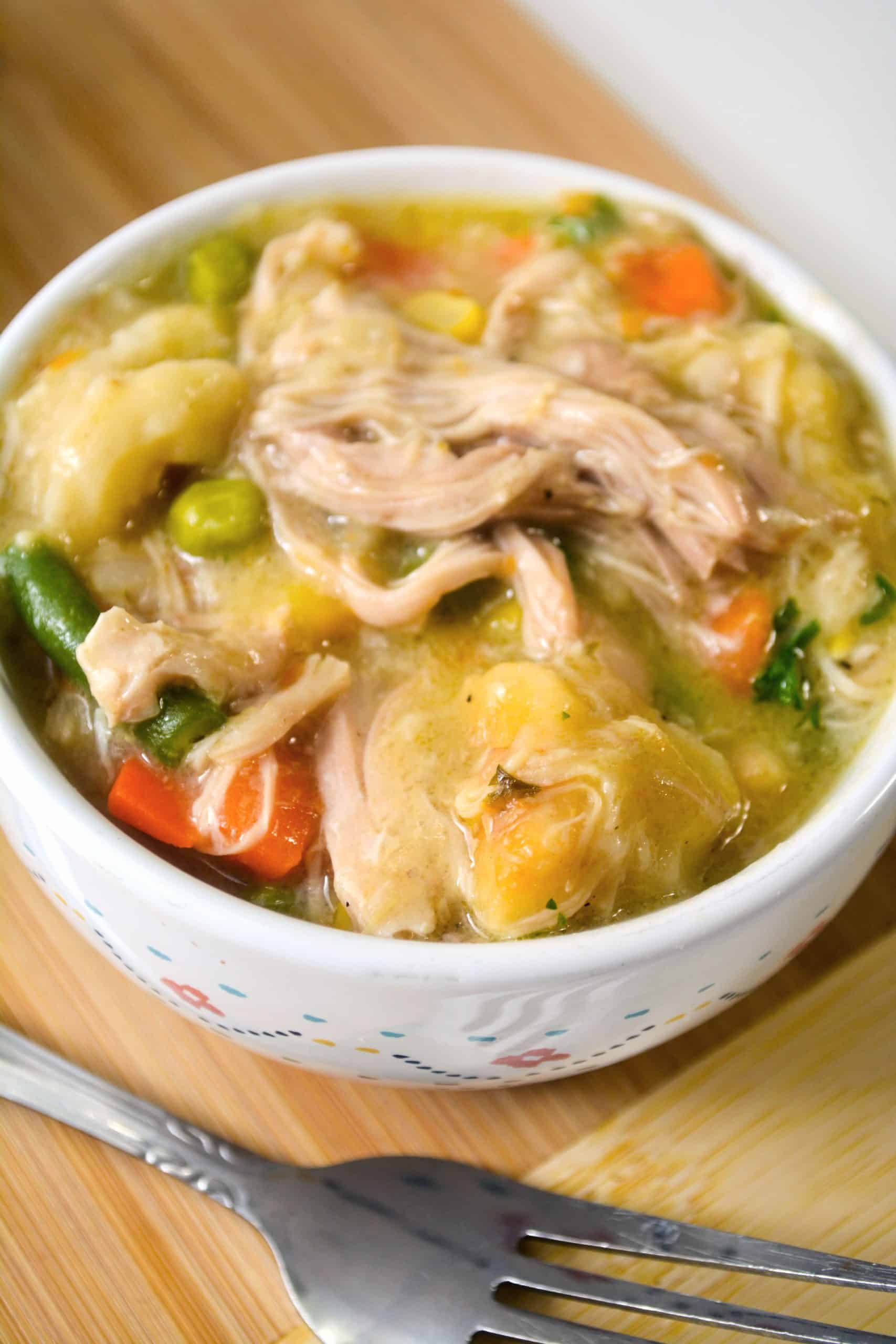 Crockpot Chicken And Dumplings
While I still love making the family recipe for the occasional special Sunday dinner, the truth is I just don't have time to make it all the time. That's how this Crock Pot Chicken and Dumplings recipe came to be – I was craving some chicken and dumplings and did not have the time or patience to make it from scratch. So born was this chicken and dumplings crockpot recipe.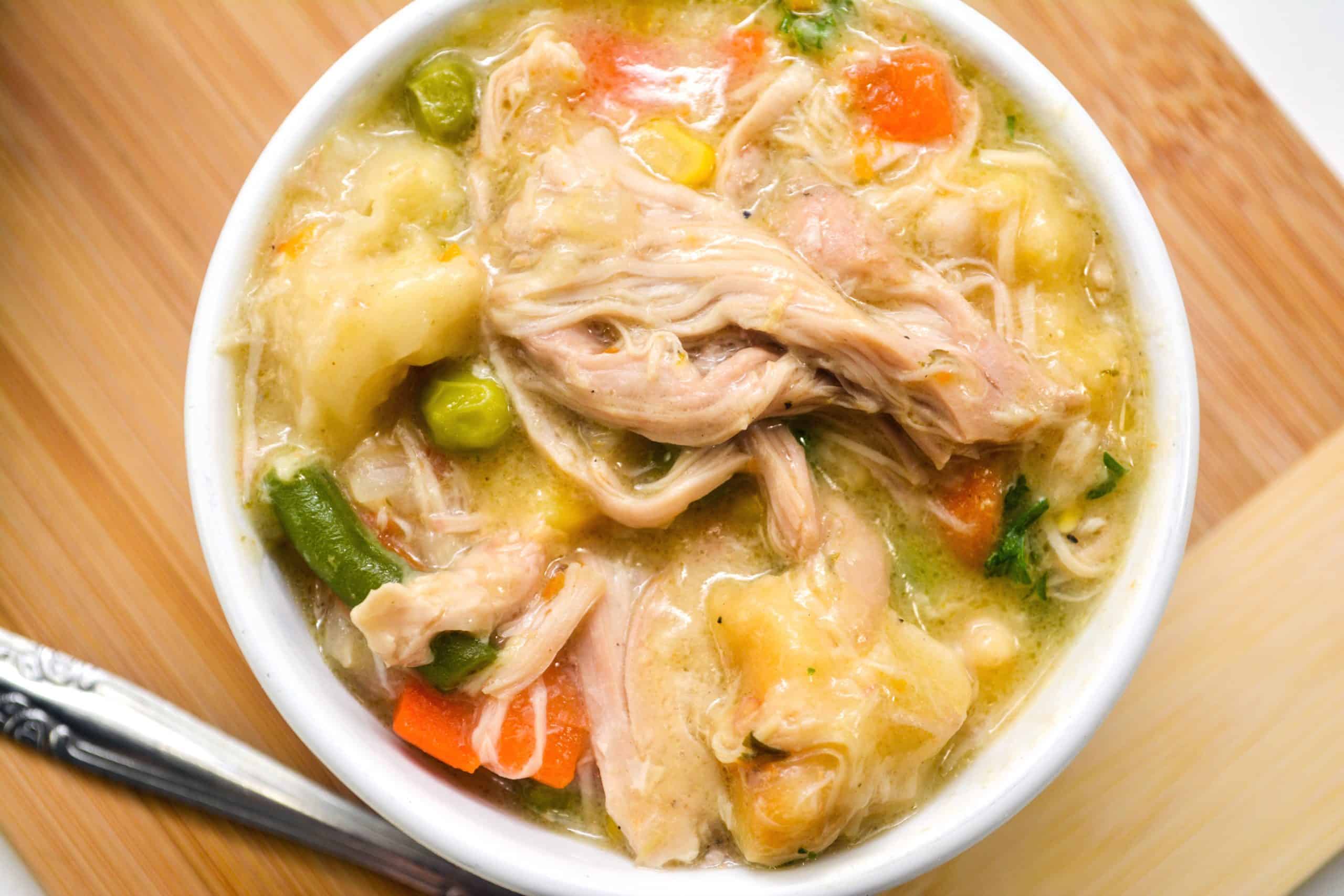 Chicken And Dumplings
The beauty of this recipe and the reason why it's one of my favorite crockpot chicken recipes is that it uses several shortcuts to reduce the amount of prep work while still keeping the flavor.
For those who make many crockpot recipes with chicken, you may wonder about how long to cook crockpot chicken. I found in this recipe that after 5 hours, the chicken was thoroughly cooked.
Crockpot Chicken and Dumplings is now one of my go-to Sunday meals. Sundays just feel like a comfort food day to me, and nothing says comfort food quite like homemade chicken and dumplings. While this may not be grandma's recipe, it is 100% kid-approved and a hit with everyone.
Slow Cooker Chicken And Dumplings Shortcuts
If you are in a hurry to cook flavorful food without all the fuss, it helps if you have a few recipes on hand are super easy. That is what I love about this chicken and dumplings Crock Pot recipe. Here are some tips to get you started and save you loads of time:
The first shortcut is that the "broth" is actually a combination of cream of chicken soup and cream of celery soup. This allows for a creamier broth than some traditional chicken and dumpling recipes, and the combination of chicken soup and celery soup had an extra flavor to the meal.
Then, instead of chopping up a variety of different vegetables, I decided just to use a bag of frozen mixed vegetables. I defrosted them first so they'd cook properly, but the taste is exactly the same as if I had spent half an hour chopping and dicing when really all I did was pour a bag into the crockpot. Score.
But the genuinely time-consuming part of traditional chicken and dumplings that I cut out in this Crockpot Chicken and Dumplings recipe is making the dumplings from scratch. Instead of making the dough and cutting the individual dumplings myself, I just used refrigerated buttermilk biscuits.
I chose buttermilk biscuits over any other type of biscuit because I felt they had the closest consistency to traditional dumplings. To make dumplings out of buttermilk biscuits, just roll each biscuit flat and cut into equal-sized pieces. I cut each biscuit into four long slices.
For Complete Cooking Instructions Please Head On Over To Next Page Or Open button (>) and don't forget to SHARE with your Facebook friends