As I've mentioned in other posts, dessert is my weakness. I mean just like at my DESSERT POSTS. So good, right? If I could make a new dessert every day, I probably would. But, I try to limit our sweets to once or twice a week. And the truth is that as a busy mom, I don't always have time for complicated desserts anymore.
When it comes to sweets in my house, there are a few things that we're all a bit addicted to. nutella is one of them. Easy Nutella desserts, like these Fried Nutella Dumplings, are a new favorite of mine. I never knew all of the baking possibilities Nutella held until recently. Now I can't believe I ever thought it was just for dipping pretzels. There are so many easy Nutella recipes out there; I could make a new one every day.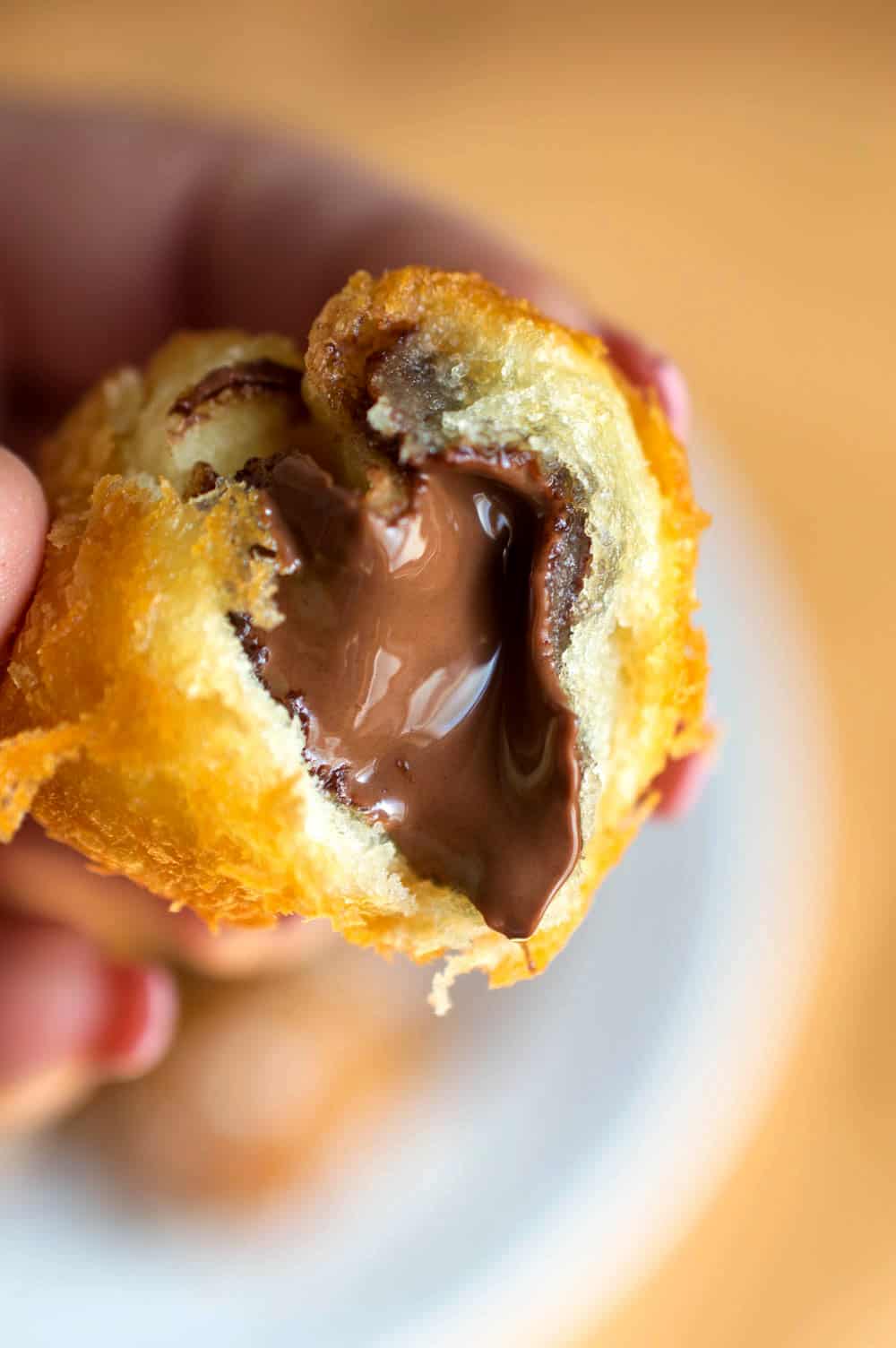 Fried Nutella Dumplings
These take the award for easiest and most delicious Nutella dessert so far!
Three ingredients. That's it. Three ingredients to absolute melt-in-your-mouth Nutella perfection. And one of those ingredients is the oil for frying, so really the only two ingredients in these dessert dumplings are Nutella and croissant dough.
I made these Fried Nutella Dumplings in canola oil. It's the lightest of the frying oils, so it doesn't have a flavor that will absorb into the croissant dough. Vegetable oil will be another option if you don't have canola oil on hand.
On another note…why aren't breakfast dumplings a more popular thing? I can only imagine the possibilities of other breakfast dumpling recipes. A fun dessert activity would actually be to make a variety of breakfast dumplings. Yum…
Anyway, as far as easy Nutella recipes go, I don't think it can get any easier than these fried Nutella dumplings. For some extra sweetness, I like to top these Nutella dumplings with powdered sugar.
Dessert dumplings are best enjoyed warm, so make sure to each these within a few minutes of coming out of the fryer. You want to enjoy the warm, melty Nutella center and the dough tastes best fresh out of the fryer.
If you're looking for your next Nutella dessert recipe, definitely give these Fried Nutella Dumplings a go!
For Complete Cooking Instructions Please Head On Over To Next Page Or Open button (>) and don't forget to SHARE with your Facebook friends