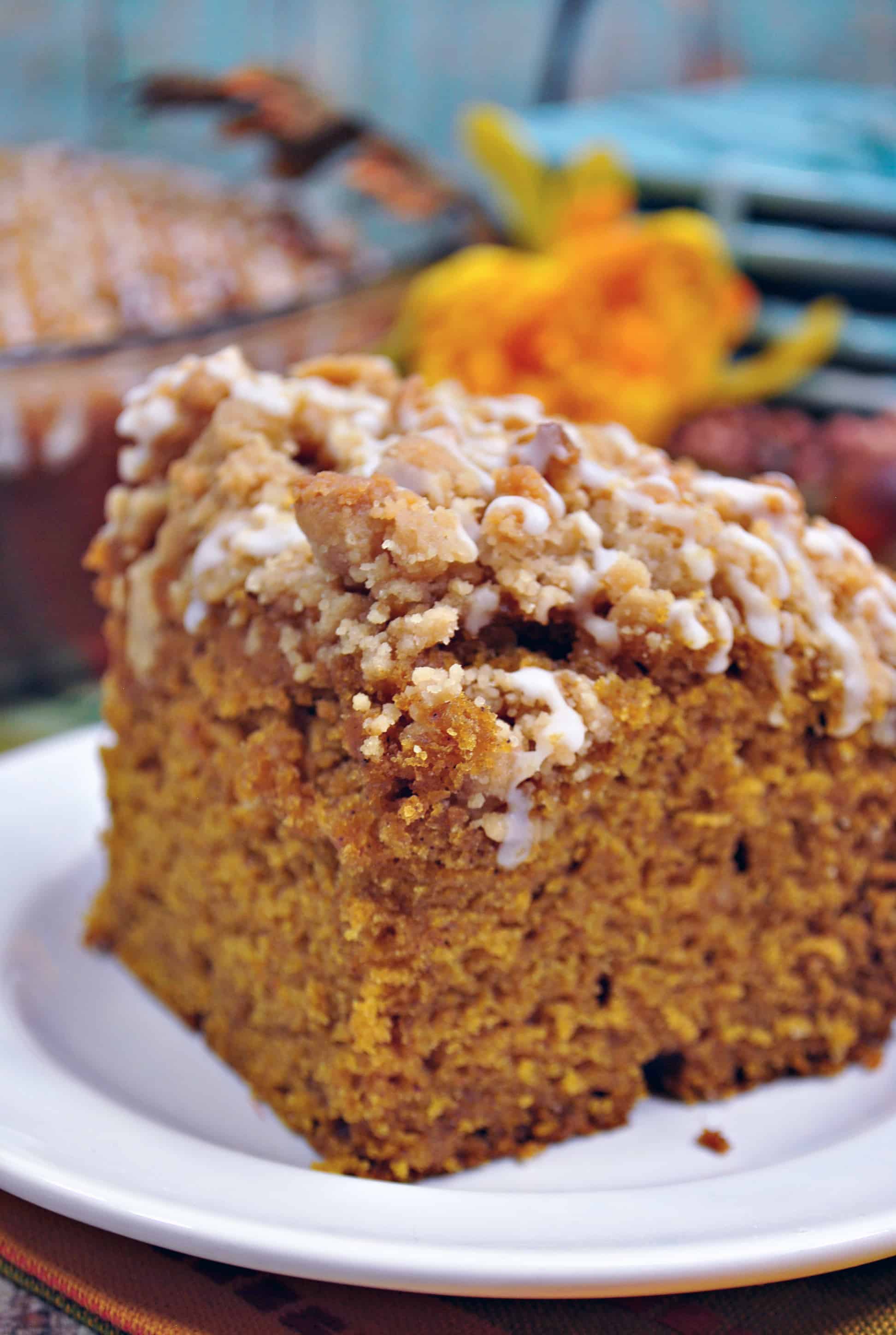 DESCRIPTION
Looking for a simple pumpkin coffee cake recipe? Wait until you try this pumpkin spice coffee cake! A delicious moist cake that features a streusel topping.
---
INGREDIENTS
Crumb topping:
1/3 cup packed brown sugar
1 teaspoon ground cinnamon
1/2 teaspoon salt
3/4 cup all-purpose flour
1/4 cup unsalted cream butter
Cake:
2 cup all-purpose flour
1 teaspoon baking soda
1 1/2 tsp baking powder
1 cup packed brown sugar
1/2 teaspoon salt
1 teaspoon pure vanilla extract
2 and 1/2 teaspoons pumpkin pie spice
1 cup pumpkin puree
3 large eggs
3/4 cup canola oil
1/2 cup sour cream
Icing:
1 cup powdered sugar
2 tbsp. whole milk
---
INSTRUCTIONS
In a medium mixing bowl, whisk together both sugars, cinnamon, salt, and flour.
Add cooled, melted butter and stir until crumbs form.
Set aside.
Cake:
Preheat the oven to 350 degrees F.
Grease and flour a 13″ x 9″ baking dish.
Set aside.
In a large mixing bowl, whisk together the dry ingredients: flour, baking powder, baking soda,brown sugar, salt and pumpkin spice.
In another bowl, mix together pumpkin puree, eggs, vanilla, oil and sour cream.
Gradually whisk together the egg mixture into the flour mixture, until well combined.
Pour the batter into prepared pan.
Tap the pan against your counter to release any air bubbles.
Sprinkle the crumb on top.
Bake the cake for 40 minutes OR until a toothpick inserted in the center comes out clean.
Prepare the icing by stirring the two ingredients together.
Drizzle icing on top of cake.
Cool to room temperature and slice.
ENJOY!!