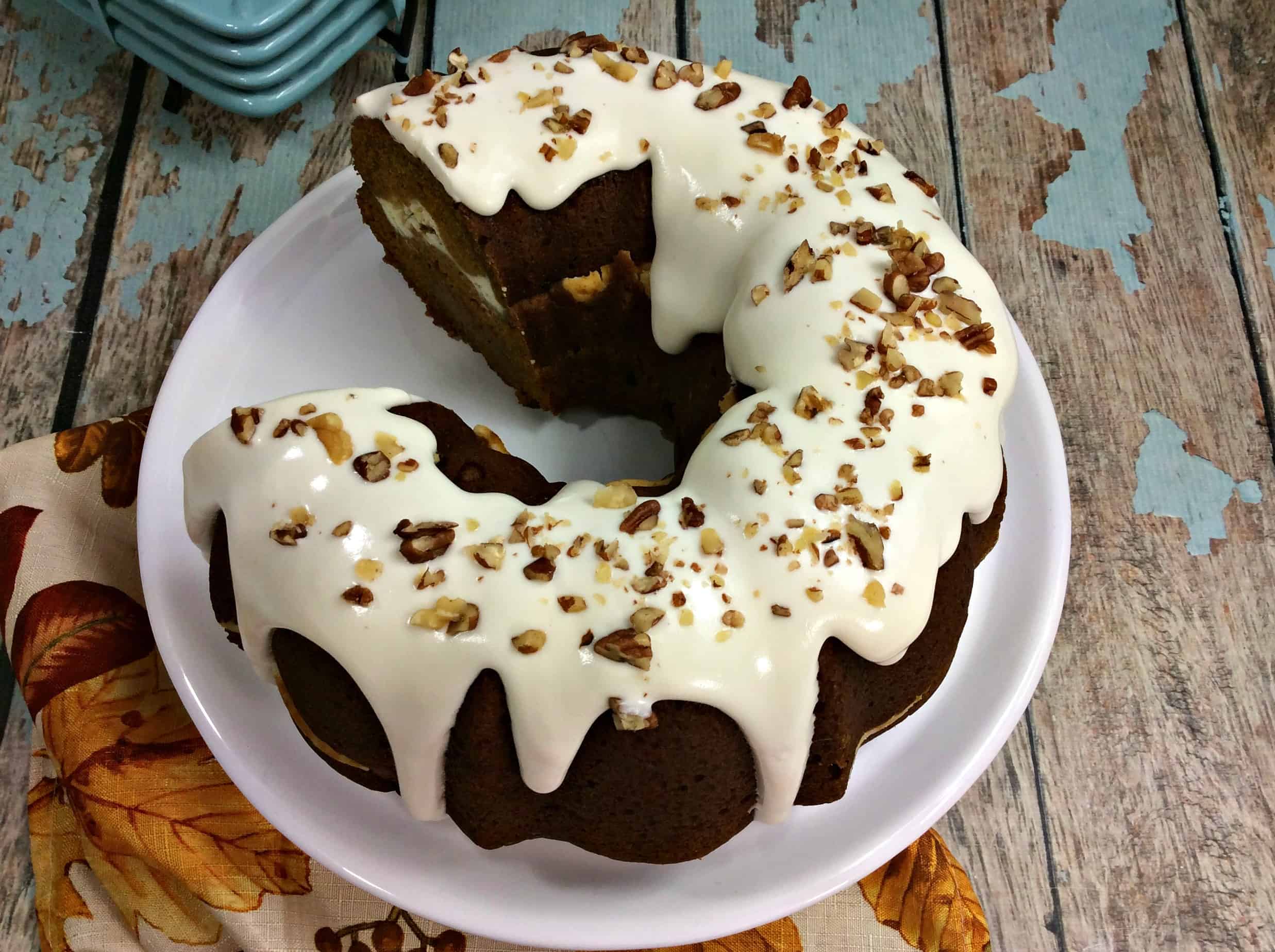 How To Make Pumpkin Bundt Cake
It won't be long, and you can be relaxing with a piece of homemade pumpkin bundt cake in your hands! The best part is that this pumpkin bundt cake is super easy and doesn't take a lot of time or effort. Here are the steps to get started:
Step1: To make this delicious pumpkin cream cheese bundt cake, separately combine the wet and dry ingredients to the pumpkin cake batter.
TIP: You may be tempted to add all the wet and dry ingredients together at once, but when you do that, it can interfere with the mixing process. It's always best to slowly add the dry ingredients to the wet ingredients and mix well.
Step 2: Spread half of the batter in the bottom of the bundt pan.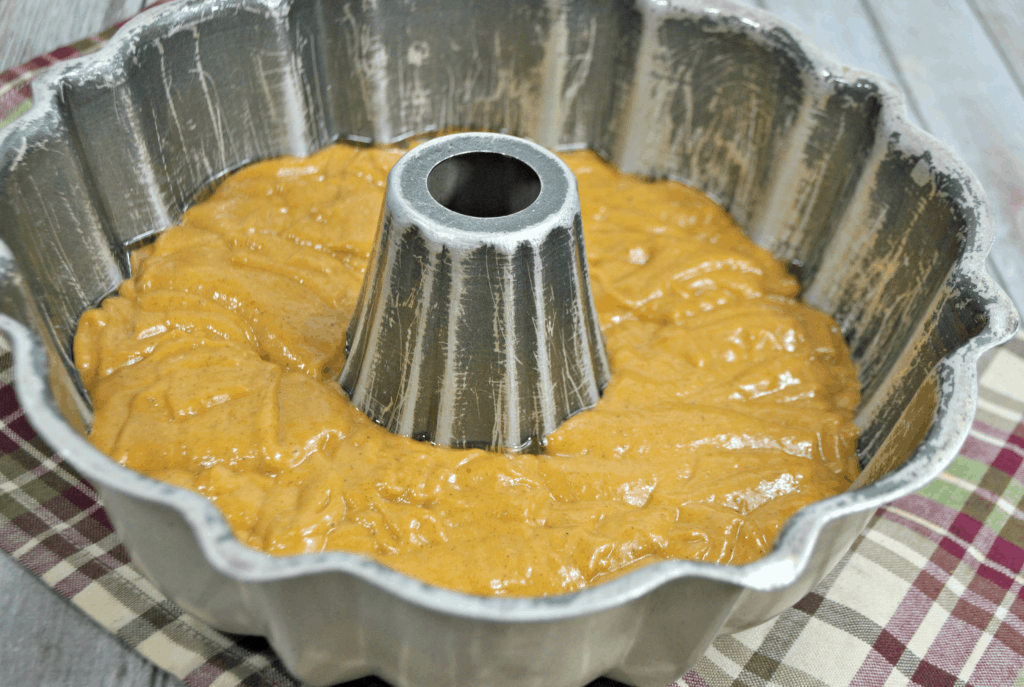 Step 3: In a separate bowl, mix together the ingredients for the cream cheese filling. Spread on top of the pumpkin cake recipe batter.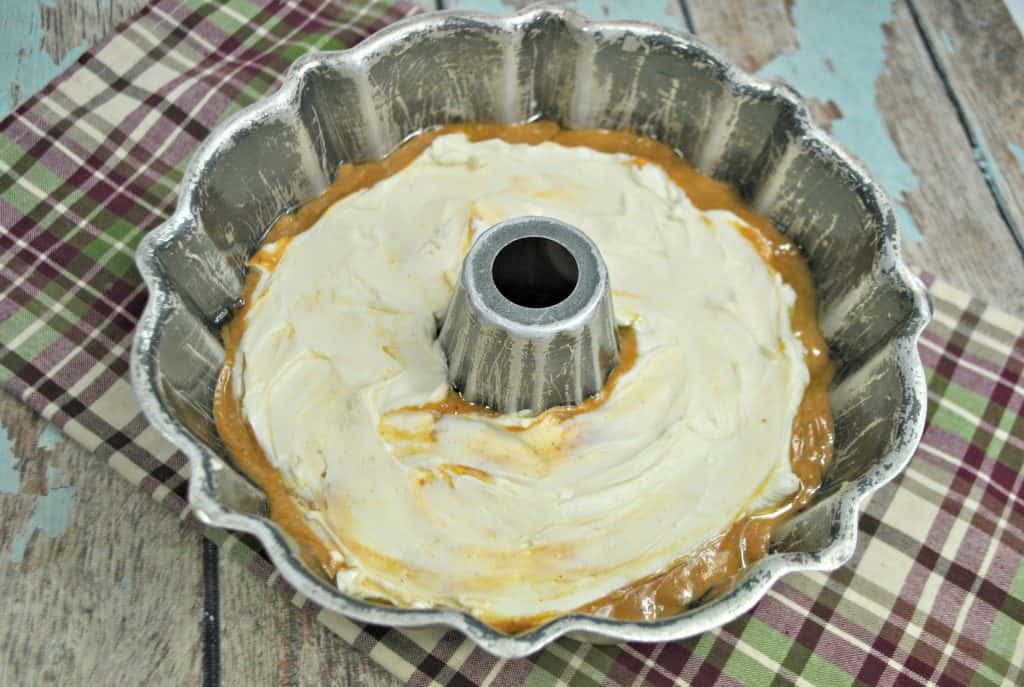 Step 4: Top with the remaining pumpkin cake batter. Bake pumpkin cream cheese bundt cake for 65 minutes.
Let the bundt cake cool completely on the counter or wire rack. Then top with cream cheese glaze and serve.
How Long Do You Let A Bundt Cake Cook Before Removing From Pan?
When it comes to letting the pumpkin bundt caking cooling, I recommend an average of 10-20 minutes after you remove it from the oven. That time can vary some depending on the airflow of your kitchen. There is a fine line between letting it cool long enough and cooling it for too long. It stays in the pan for an extended time you may experience the pumpkin cake sticking to the pan because of moisture forming. At the very minimum, allow the bundt cake to sit at least 10 minutes before flipping the pan over to get the cake out.
How To Prevent Bundt Cakes From Sticking
I wanted to give you a few tips, so you don't have a bundt cake baking disaster. Trust me; they are not fun! Take a look at these tips to help keep your pumpkin bundt cake in one piece:
Use an older pan if you have one. I know it seems like a good idea to buy something shiny and new, but those older style bundt pans have a way of making the bundt cakes perfect every time!
If you do need to buy a bundt pan, make sure it is a non-stick variety. There are so many to choose from at the store, but if you stick with nonstick you will be good!
Make sure you properly grease the pan before baking. You will thank yourself later when this pumpkin cake slides right out of the pan with ease.
Sprinkle a little bit of powdered sugar in the bottom of the bundt cake pan to coat it evenly. Some people use flour for regular cakes, but when it comes to baking bundt cakes, the flour actually causes it to stick.
Pumpkin Bundt Cake Recipe Variations
If you aren't drooling already you will be when you see these additional ideas! Try something new and add in some of these yummy ingredients.
Chocolate Chips – Is it even possible to have cake without chocolate? Okay, it may be, but adding some mini semi-sweet chocolate chips takes this cake to the next level!
Cranberries – It's exceptionally flavorful to add in some cranberries during the holiday seasonings. It makes the pumpkin spice bundt cake taste like Christmas!
Raisins – Add in a 1/4 – 1/2 cup of raisins to make the pumpkin cream cheese cake even sweeter and filling. This pumpkin bund cake recipe is so good with our without added ingredients!
Chocolate Drizzle – Instead of using the cream cheese glaze for bundt cake, try it with some melted chocolate or chocolate syrup. Just drizzle a little bit on the top and enjoy every bite of the best pumpkin bundt cake ever.
White Chocolate Chips – If white chocolate is more your style than semi-sweet, you have to try this! Add some into the batter, and you will be so pleased when you bite into this moist bundt cake.
How To Tell If Bundt Cake Is Done
If you haven't baked a lot of bundt cakes, it can be a little confusing to tell if it's done or not. Here are some things I look for:
This pumpkin cream cheese bundt cake is showing signs of being done when the sides start to separate from the sides of the pan. Most other cakes are the same way.
If you stick a toothpick into the center of the pumpkin bundt cake and it comes out clean, then it's probably done.
Another way to tell is to touch the top of the cake with your finger very carefully. If it leaves a dent, then it needs to cook a little longer, and if it springs back, then it's done.
Can I Make Mini Pumpkin Bundt Cakes?
Yes, absolutely! Follow the instructions as directed except pour the batter and cream cheese filling into mini bundt pans or ramekins. You will need to reduce the cooking time to around 20 minutes when baking the mini pumpkin bundt cakes. Otherwise, everything else is the same, and the result is flavorful pumpkin spice bundt cakes just on a smaller scale.
How Do I Store Pumpkin Cream Cheese Cake?
While the jury is still out on if anything with cream cheese needs to be refrigerated or not, I tend to be a rule follower when it comes to food. I recommend covering the bundt cake in an airtight container and keeping it in the fridge. Typically, anything with cream cheese should be refrigerated within 2 hours of baking. I say to be safe and not risk it. Plus, cold pumpkin bundt cake with cream cheese frosting is even more delicious than when it's warm!
Can I Freeze This Pumpkin Cream Cheese Bundt Cake?
Yes, you sure can! You can either save the entire homemade pumpkin cake or just a few slices. If you are making the pumpkin bundt cake in advance for an event or something, I recommend freezing it without the cream cheese glaze. Then you can just drizzle the glaze on the day you are planning to serve it.
The best way to keep it the freshest, is to wrap the cake or pieces of cake in plastic wrap then put it in an airtight container that's freezer safe. This will keep it safe from the elements in the freezer so you can eat it later.
When you are ready to serve the pumpkin bundt cake, simply remove it from the freezer and place it in the fridge or on the counter until it's thawed.
Time to pin this delish cake for later!
Enjoy!!
For the summary of Cooking Instructions Please Head On Over To Next Page Or Open button (>) and don't forget to SHARE with your Facebook friends