Lunch is a meal I think most of us overlook. It's typically eaten at work, which means a basic packed lunch, a quick fast-food lunch, or something overpriced from the cafeteria.
Ranch Chicken Wraps
Or, if you're a stay at home mom, lunchtime is typically based around nap time and making the kids something quick and straightforward. That is what inspired me to make this grilled chicken wrap because I knew it would be flavorful but wouldn't take me forever to make. Plus, low maintenance meals are perfect for your really busy lifestyle.
All too often I find myself falling victim to the mac and cheese and hot dog lunch trap, but I've been trying to make it a point to be a little more creative or at least make something a little more sophisticated. Whether that means making myself a separate lunch from the kids or, preferably, finding something we all enjoy depends on the day. My go-to lately has been this chicken ranch wrap recipe for lunch.
Chicken and ranch wraps are filling, and you can eat them with your hands. Kids love this, and I'm not going to lie…I do too! It's just more fun to grab a wrap and eat it then to use silverware. Yes, you may end up with some creamy ranch dressing on you, but that's half the fun.
Chicken Ranch Wrap
With just four ingredients, this chicken and ranch wrap has become one of my favorite easy wraps. It's cheesy, delicious, and quick to make, which is precisely what I look for in a lunch recipe. And – my kids love it too, probably because they think ranch dressing belongs to EVERYTHING (seriously…everything. It's slightly disgusting!) and what kid doesn't love cheese?
This recipe using grilled chicken breasts, so I actually like to use leftover grilled chicken from dinner, but you can also buy frozen pre-cooked grilled chicken breasts or even grilled chicken breast strips. I like to keep them in the freezer for grilled chicken wrap recipes like this or for adding to a salad. Of course, you could also take the time to grill chicken breasts for this recipe, but I find that I just don't have the time or ambition to fire up the grill for lunch.
One idea is that if you are already grilling chicken for supper, you can make extra. Cut it into slices or leave it whole and put it in the freezer. Then you have already cooked chicken while saving loads of money! Then making this chicken and ranch wrap will be even easier and won't break the bank.
That said, there's no reason why these chicken and ranch wraps don't need to be exclusive to lunch. You could turn this easy chicken wrap recipe into a full dinner by serving it with a salad.
If you're looking for easy chicken wrap recipes, give this Chicken Ranch Wrap a shot!
Ranch Chicken Wraps Are Great For All Occasions
Yes, they are super easy for lunch or dinner, but you can serve them for other events too. Barbecues, potlucks, baby showers, wedding showers, weddings, reunions, daycares or even dinner parties they are sure to be a huge hit.
There is no end to the possibilities! If you are planning to make a bunch, you can cut them into 1-inch slices and stick a toothpick through the center. This will keep them perfectly bite-sized for guests and prevent all the yummy food from falling out.
I should warn you that there is a strong chance you won't have any leftovers when you are serving homemade chicken wraps to a crowd. They will seriously eat them so fast there won't even be a crumb leftover.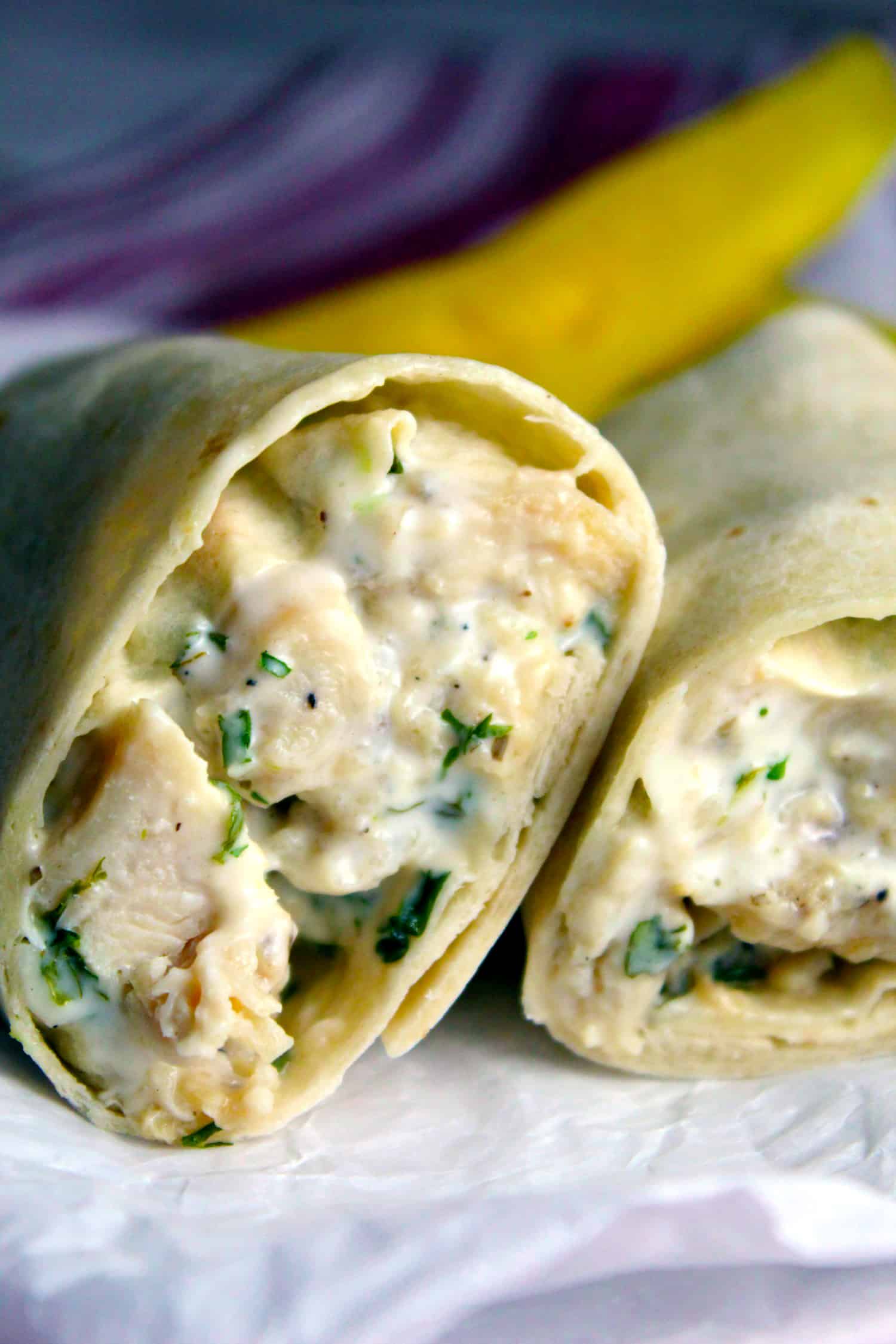 For Complete Cooking Instructions Please Head On Over To Next Page Or Open button (>) and don't forget to SHARE with your Facebook friends