Incredible Red White and Blue Cake with Cheesecake
This is a great cake for whenever you are looking for a flag cake recipe. Easy to make, this layer cake recipe also features a no bake cheesecake recipe. This patriotic cake is great whenever you want a delicious layer cake recipe.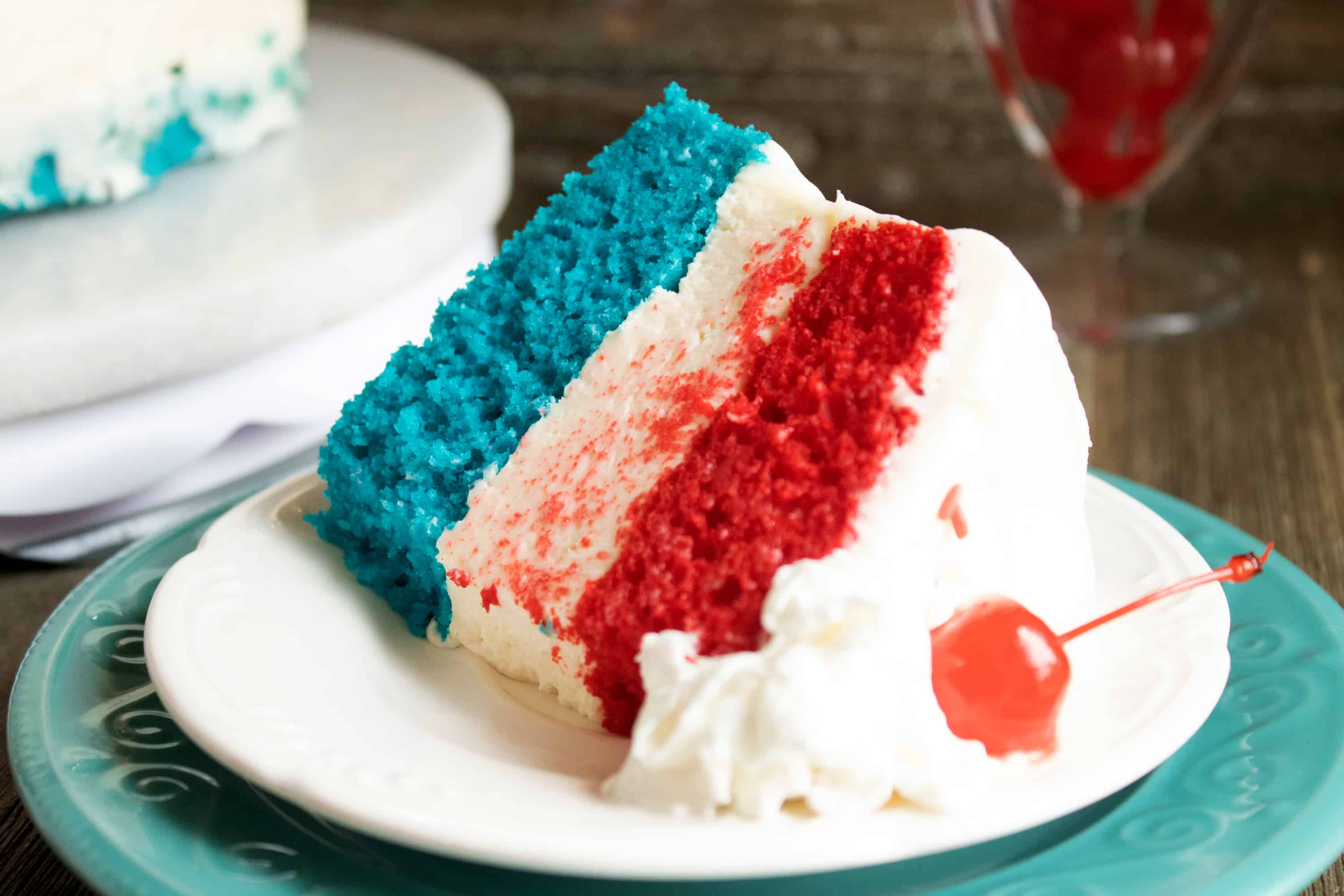 Variations to Flag Cake Recipe
This is a very basic cake recipe using a red boxed cake and a blue boxed cake, there are a few ways to change up this recipe. If you want to put a few spins on this recipe, you can try:
Can't Find the Boxed Cake Mix: Since these are cake mixes that are already colored, using them makes it easier. If you can not find these colored cake mixes, you can dye the batter yourself. Using gel food color is easier because it uses less food color but liquid color will work as well. Add the food coloring slowly until you get the right color.
Sprinkles or colored chocolate chips: If you want to add a little pizazz to the cake, you can add sprinkles or chocolate chips to the batter. To stay with the red white and blue theme, find colored chocolate chips or use red white and blue sprinkles.
Add Decoration to the Frosting: You can continue the color theme into the frosting.
Extracts: If you want more than a regular vanilla cake, feel free to add flavored extracts to the cake. Cherry, Blueberry, and Lemon will work great.
No Bake Cheesecake Recipe
With this cake, you are going to be adding a no bake cheesecake recipe. This no bake cheesecake recipe is taking the place of the icing that goes between the layers of the cake. You will whip together the no bake cheesecake recipe and then let it set together to form the cake layer. Once the cheesecake is ready, you can remove it the pan and add it to the cake layers for frosting the entire cake.
How to Store American Flag Cake
Unlike many cakes, you do not want to store this cake at room temperature. Because of the cheesecake layer, it is important to keep this cake in the refrigerator. The cheesecake layer of this American Flag cake will spoil if left at room temperature for too long. When storing the cake, you will want to make sure that the cake is covered and protected from the air and moisture. The cake will dry out and become stale if the cake is not wrapped well or stored inside of a cake cover.
How Long Does this Layer Cake Last
When you are making this cake, as long as it is stored properly, this cake can last up to 4 to 5 days. If the cake spends more time at room temperature or if it is not covered properly the cake will spoil sooner than this. 
For Complete Cooking Instructions Please Head On Over To Next Page Or Open button (>) and don't forget to SHARE with your Facebook friends