Samoas Cookies Cupcakes Recipe
Samoas Cupcakes topped with a delicious caramel frosting, drizzled with chocolate and sprinkled with toasted coconut. My favorite Girl Scout cookie in cupcake form! I am a huge fan of girl scout cookies, especially the samoas. About two months ago I made some incredible Samoas Cookie Bars, however, that was not enough to satisfy my Samoas craving. These decadent and moist chocolate cupcakes swirled with a rich caramel frosting topped with a milk chocolate drizzle and toasted coconut are sure to satisfy even the worst cravings!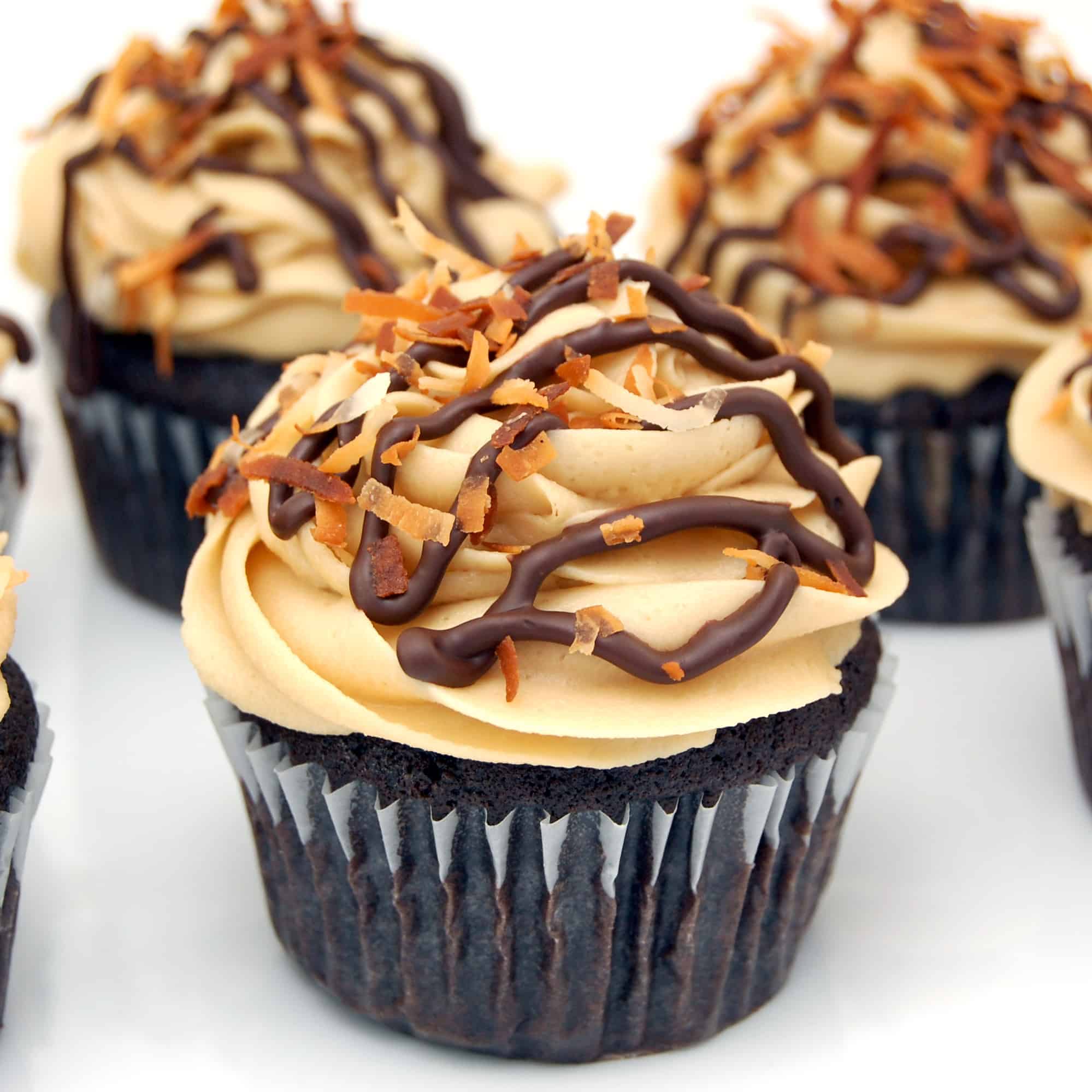 Can I Use Boxed Cake Mix for the Cupcakes?
If you want to make these cupcakes easier to make, you can use a box cupcake mix. When you make the cake mix, you will need to add the coconut extract to the cake mix batter. This is the only thing that is different from making the cake mix.
How to Toast Coconut for These Cupcakes
There are 2 ways that you can toast coconut. Some people do it in a skillet. I like to toast the coconut in the oven. It is a much easier way. Place the coconut on a cookie sheet and bake it in the oven for about 10 minutes. The coconut will become a toasted brown color when it is done.
How to Store these Cupcakes
After you have made the cupcakes, you want to make sure they are stored properly. As long as the cupcakes are stored well, the cupcakes will last about 4 to 5 days. The cupcakes need to be stored in an airtight container or wrapped with plastic. Store them at room temperature for the best results. The cupcakes can be stored in the refrigerator and this will help them to last another day or two but the refrigerator makes cake dry out faster and these cupcakes will taste dry and stale.
For Complete Cooking Instructions Please Head On Over To Next Page Or Open button (>) and don't forget to SHARE with your Facebook friends