OLD FASHIONED SHORTBREAD COOKIES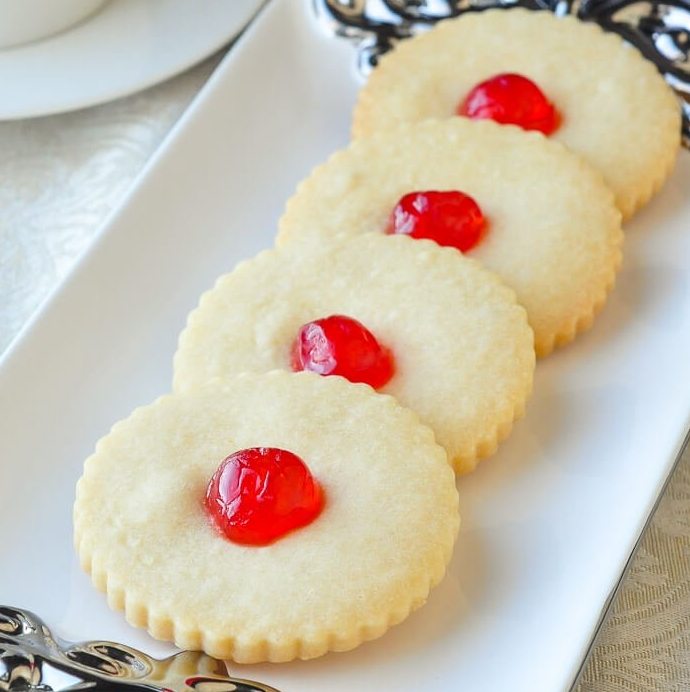 SaveFollow me on Mama guide recipes
Ingredients
2 cups butter at room temperature 1 pound
1 cup icing sugar powdered sugar
2 tsp vanilla extract
1/2 cup corn starch
3 cups flour
Maraschino cherries or baking gums for the centers . optional
Instructions
Cream together the butter and icing sugar very well until very smooth and creamy. No lumps of butter should be visible.
Blend in the vanilla extract.
Sift together the flour and corn starch.
Blend slowly into the creamed mixture until a soft dough forms.
Split dough into 2 equal round portions.
Wrap the dough rounds in plastic wrap and chill for a couple of hours at least.
You can freeze one of the cookie dough portions for later if you like.
This dough will also last in the fridge for 3-4 days so that you can bake a few up at a time and enjoy them fresh from the oven if you like.
To bake the cookies preheat the oven to 350 degrees F and line cookie sheets with parchment paper.
Roll the dough out to a little less than 1/4 of an inch on a lightly floured surface. Use a 2 inch cookie cutter (or holiday shaped cookie cutters) to cut out the cookies.
Place the cookies on the parchment paper a half inch apart. Add a half maraschino or glacé cherry to the center, or a baking gumdrop if you like.
Bake for 15-20 minutes or until they just start to turn brown at the edges.
Let cool for 10 minutes on the pan before transferring them to a wire rack to cool completely. Store in an airtight container.
These cookies will freeze quite well for several weeks.
From: https://www.rockrecipes.com/old-fashioned-shortbread-cookies/