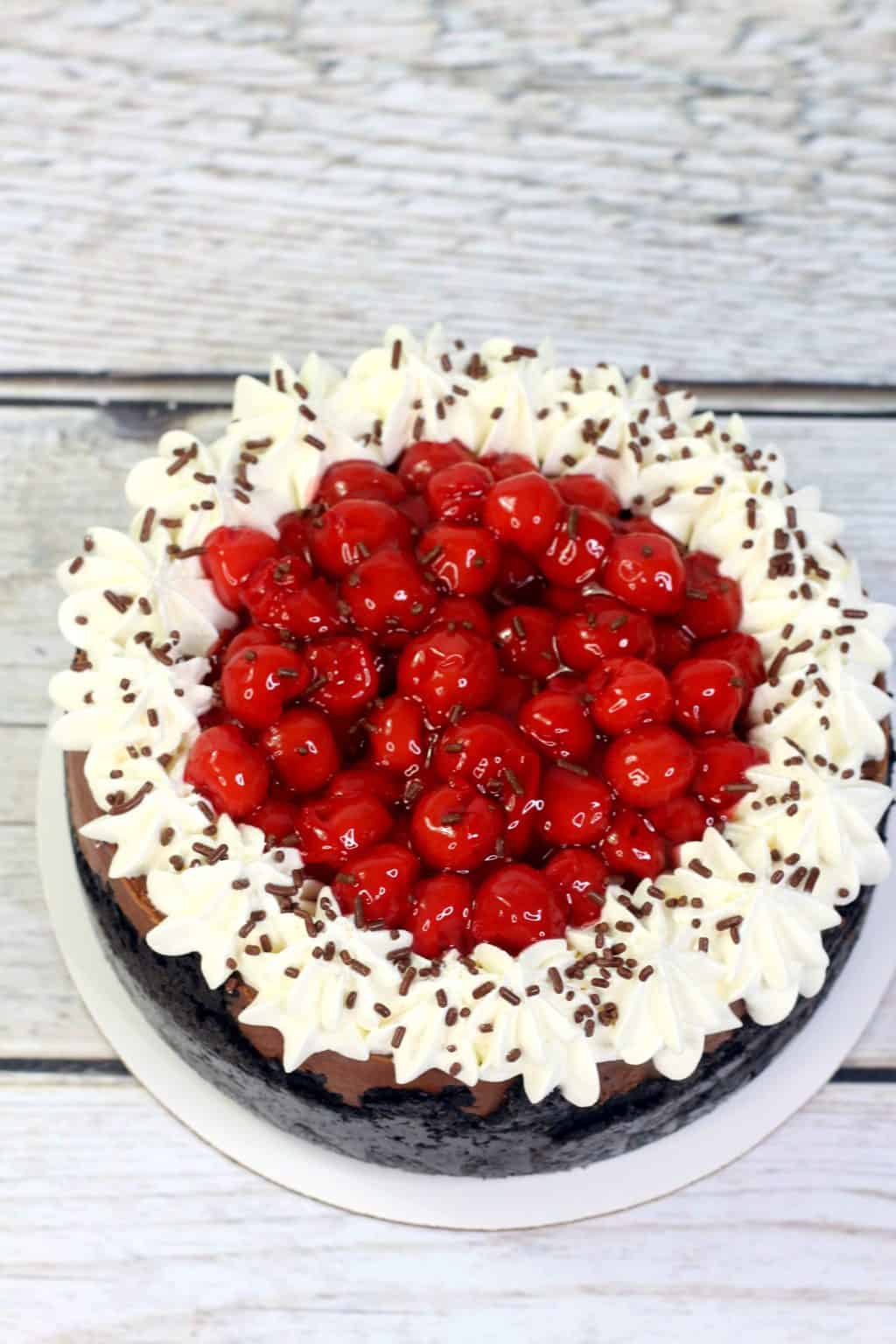 Ingredients
Crust ingredients
2 C crushed oreos
¼ C unsalted butter, melted
Chocolate cheesecake ingredients
2 – 8oz cream cheese, softened
½ C sour cream
⅓ C sugar
2 tbsp cocoa powder
2 large eggs
½ C semi sweet chocolate chips, melted
1 tsp vanilla
Topping ingredients
1 – 12 oz cherry pie filling
1 – 8oz cool whip
1 container of chocolate sprinkles
1 medium piping bag fitted with a star tip
Instructions
Crust Directions
Line the bottom of a 6inch springform pan with parchment paper and spray the sides with pam baking spray.
Now if a food processor you want to grind up 24 Oreo cookies, so they are like sand-texture for making your chocolate crust.
Mix in the melted butter, and combine the two.
Press the crushed oreos into the springform pan.
Place into the freezer while you make the cheesecake mixture. This will help it to set up a bit.
Chocolate cheesecake Directions
In a large bowl or stand mixer you want to mix up your cream cheese, sugar, sour cream and mix until nice and creamy.
Slowly add in your cocoa powder, melted chocolate and vanilla extract.
Slowly mix in the egg, making sure to not overmix, as that will cause cracking in cheesecake.
Pour your chocolate cheesecake over the Oreo cookie crust.
Cover tightly with foil, and put 1 cup of water in the instant pot.
Place your trivet in the Instant pOt, and then lower your cheesecake in.
Close your pressure cooker lid and ensure it is sealed on the valve. Cook high pressure for 35 minutes with a 20 minute natural release of pressure.
Remove the lid and wipe up excess water on the aluminum foil with a paper towel.
Remove from the pot and allow the cake to cool for an hour, then transfer to the fridge to refrigerate overnight.
Place a trivet inside
Topping Directions
Using a sharp knife, run it around the edge of the springform pan to loosen the crust.
Remove the springform pan and place the cheesecake onto a serving plate if you would like.
Pipe cool whip around the edge of the cheesecake, and leave the center open for the pie filling.
Spoon cherry pie filling into the center of the cheesecake to give it that black forest cheesecake look and feel.
Sprinkle chocolate sprinkles on top if you would like.
Cut and serve your homemade black forest cheesecake!